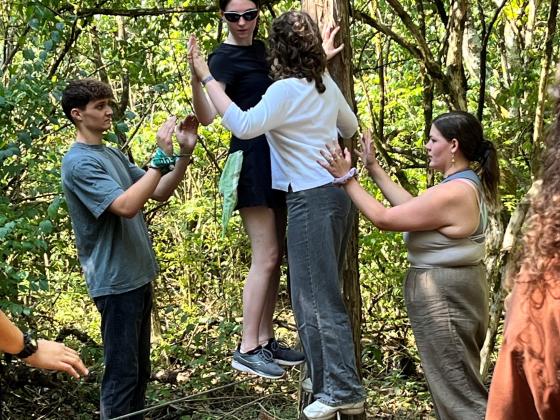 a two-year program for
Outstanding Undergraduates
The Gaines Fellowship in the Humanities is a one-of-a-kind, two-year program designed to enrich undergraduates' experience in the humanities.
Fellowships are awarded in recognition of outstanding academic performance, a demonstrated ability to conduct independent research, an interest in public issues, and a desire to enhance understanding of the human condition through the humanities.
This is a highly competitive and prestigious program, with only twelve UK students being selected each academic year. Interested students from all degree programs are encouraged to apply.
Benefits & Expectations
Successful applicants will make a two-year (four semester) commitment to the program, and while all Gaines students are expected to participate in the Center's activities throughout the fellowship, benefits and expectations vary by cohort and progress to completion:
Incoming (Junior) Fellows:
$2,000 stipend to be awarded over the academic year 
Successful completion of a specially designed four-credit hour humanities seminar during both fall and spring semesters

These seminars are led by a variety of outstanding University of Kentucky educators and will focus on a specific theme throughout the year.

Successful completion of an engagement project that serves a campus, Lexington, or personal community  
NOTE: Renewal of the fellowship in the senior year will be contingent upon satisfactory academic performance and demonstrated participation in all Gaines Center events.
Senior Fellows:
$3,000 stipend to be awarded over the academic year 
Eligible for the Betts, Rowland, and European Travel Scholarships which provide financial support for international experiences that significantly enhance Fellows' knowledge and abilities
Successful completion of a major independent research project (i.e., thesis) of six to fifteen credit hours 

These projects will be guided and graded under the direction of the Gaines Director and three UK faculty members whose expertise is relevant to the fellow's project area.  
Eligibility
Traditionally, interested students will submit their Gaines application during the spring semester of their sophomore year.
While any University of Kentucky student may apply to the Gaines Fellowship, successful applicants will meet the following requirements: 
Have at least two years (four semesters) of undergraduate coursework remaining after the given application cycle 
Provide an outstanding academic record - typically measured at a 3.5 cumulative GPA or better 
Demonstrated commitment to intellectual curiosity, independent research, and/or civic engagement 
Again, students in all disciplines and with any intended profession are given equal consideration. Gaines Fellows come from all degree programs including Art History, Environmental Science, Psychology, Agricultural Biotechnology, and many more. Furthermore, enrollment in the UK Lewis Honors College is not required. 
Lastly, while freshmen are eligible to apply, they must be able to articulate their scholarly interests and demonstrate academic maturity. If freshmen applicants are unsuccessful, they are encouraged to apply again during their sophomore year. 
Ready to Apply?
Applications for the 2023 Gaines Fellowship are now closed. Applications for the 2024 cohort will open in early 2024. 
You are encouraged to follow the Center on Instagram, Facebook, and/or Twitter to stay up-to-date on application announcements and future information sessions. 
The Gaines Center is committed to realizing a vision of true intellectual community. We welcome fellowship applications from eligible candidates from diverse disciplinary backgrounds and actively seek racial, ethnic, economic, geographic, and philosophical diversity, as well as diversity across gender expression, sexual orientation, age, marital and disability status.
Gaines students and faculty come from many different academic and personal backgrounds, but we all have one thing in common: an appreciation for meaningful intellectual curiosity. 
We are a community of artists, debaters, scholars, leaders, and social servants dedicated to preserving and amplifying the humanities for all walks of life. 
Belonging
Through special seminar courses, community outreach, and annual trips, our students create a bond that is uniquely Gaines. 
Engagement
Our junior Gaines Fellows lend their skills and passions to solve problems throughout the campus and across the state.
Research
Gaines Fellows culminate the program with a quality research project that rivals many scholars beyond their years.