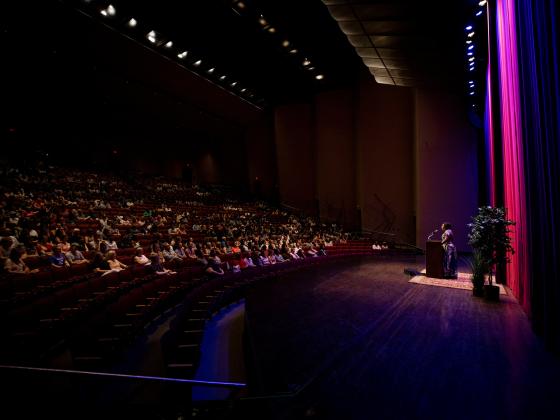 Instilling Humanities
throughout Campus and the Commonwealth
Upcoming Events & Deadlines
Gaines Newsletter
For a deeper dive into our work, browse our latest biannual newsletter.
Thanks to generous donors and special grants, the Gaines Center is able to bring a number of authors, artists, musicians, and scholars to Lexington each year. The vast majority of these programs are free and open to the public. Listed below are the Center's staple programs, each named after the respective benefactor. 
Bale Boone Symposium
Through the Bale Boone Symposium, the Gaines Center promotes dialogue, intellectual exploration, and partnerships among campus, Bluegrass, and Commonwealth communities by sponsoring an array of public humanities and arts events.
These events are a testament to the influence and memory of Joy Bale Boone and George Street Boone, who were committed to the betterment of the humanities. The Bale Boone Symposium is supported by the National Endowment for the Humanities.
Past Symposiums: 
2021 - An Evening with Rhiannon Giddens: Rhiannon Giddens is the co-founder of the GRAMMY award-winning string band Carolina Chocolate Drops, in which she also plays banjo and fiddle. She began gaining recognition as a solo artist when she stole the show at the T Bone Burnett– produced Another Day, Another Time concert at New York City's Town Hall in 2013. The elegant bearing, prodigious voice, and fierce spirit that brought the audience to its feet that night is also abundantly evident on Giddens' critically acclaimed solo debut, the Grammy nominated album, Tomorrow Is My Turn, which masterfully blends American musical genres like gospel, jazz, blues, and country, showcasing her extraordinary emotional range and dazzling vocal prowess.
2019 - An American Marriage: The Gaines Center for the Humanities was pleased to welcome acclaimed author and professor Tayari Jones, who presided over the most successful Bale Boone Symposium to date, with more than 1,200 attendees present at her keynote lecture. Jones is the author of four novels: An American Marriage, an Oprah Book Club pick; Silver Sparrow, chosen for the NEA's Big Read Library; The Untelling; and Leaving Atlanta. 

2018 - Kentucky Reads: All the King's Men (An Evening with Jon Meacham) As a capstone to Kentucky Humanities' statewide literacy initiative Kentucky Reads: All the King's Men, Meacham spoke on the relevance of Robert Penn Warren's work, from politics to race to regional culture, as well as Warren's impact on literature and American culture.

2016 - Europe Today and the Memory of Violence: Europe today has come to symbolize the possibility of peace and cooperation among peoples, but the collective memory of the continent that will be the focus of the 2015-2016 "Year of Europe" program remains haunted by the memory of its violent past. Has Europe truly exorcised the specter of violence?  Is violence a necessary product of the self-assertion dictated by modern European forms of subjectivity? Our symposium on "Europe Today and the Memory of Violence" brought together speakers from a wide range of disciplines to consider these questions.
To read about Bale Boone events prior to 2016, click here. 
Breathitt Undergraduate Lecture
Established to honor Edward T. Breathitt, an eminent Kentuckian (Governor of KY, 1963-67) and a UK alum with exceptional passion for higher education and the humanities, this lectureship is awarded to an undergraduate whose qualities of mind and spirit have been expressed eloquently on one of more of the basic concerns of the humanities: form, value, and memory.
The award is presented by the Gaines Center for the Humanities, and the Edward T. Breathitt Lectureship recipient receives a special award and an honorarium of $500.
Past Lectures: 
To see a list of past Breathitt lectures prior to 2019, click here. 
Lafayette Seminar in Public Issues
Gaines' annual Lafayette Seminar offers an opportunity for Lexington community members, elected officials, and faculty and students to discuss such issues as the local economy, town and gown relationships, and the creation of successful public spaces.  The Seminars are supported by the National Endowment for the Humanities.
Past Seminars: 
2021: Imani Perry: On Anthems
2020: Sena Jeter Naslund & David King: Literary Migrations: Kentucky Authors Writing Beyond Place
To see a list of past Lafayette Seminars, click here.